You want to discover the parks of Garraf, Olèrdola and Foix…
alongside tour guides who are connoisseurs of the territory?
Every weekend you can enjoy the following activities:
Guided excursions (EG):
Naturalistic itineraries guided by
good connoisseurs of the territory aimed at the general public.
Guided or theatricalized visits (VG or VT):
Visits to the monumental set of Olèrdola and its outskirts of the
Hand of a guide and / or a historical character.
Family activities (AF): workshops, discovery games or short strolls
and low difficulty, aimed at especially children.
Workshops for adults (TA): visits that include a workshop practical aimed at the adult public. Itineraries to get to know the park better
General information
Prices:
adults, 3 euros;

children, between five and twelve years,
2 euros;
under five, free.

Large families,
members of the volunteer circle of natural parks
over 65, 10% discount.
Some activities are subject to an additional fee
in concept of material or access to equipment that does not
They depend on the park.
Hours: See the description of each activity
Booking: Contact the different organizers
At least 24 hours before the activity, by mail
Electronic, Phone or WhatsApp.
Material: you need to wear suitable footwear and clothes for walking by
the mountain, water, cap and sunscreen or waterproof,
if season or weather suggests.
For night departures, take  a lantern/torch
JAN
FEBRUARY
Sunday 4 Discover the Bonelli's Eagle with
the smallest AF Garraf
Sunday 11 Gimcana with family in Castellet AF Foix
Sunday 11 Caving discovered at Avenc
of the AF Garraf Skeletons
Sunday 18 Let's make our natural kit! AF Garraf
Sunday 25 The Black Cave: Discover the interior
from the Garraf massif EG Garraf
MARCH
Sunday 4 Discover the Bonelli's Eagle with
the smallest AF Garraf
Sunday 11 Trip by the Solar System AF Garraf
Sunday 11 Caving discovered at Avenc
of the Esquelets VG Garraf
Saturday 17 Guisla, Olèrdola AF Olèrdola's cloakroom
Sunday 18 My book of nature AF Foix
Sunday 18 Discover the sensory itinerary of Can
Degree in family AF Garraf
Sunday 25 The gymkhana of the Parc d'Olèrdola:
the strange traveler and his map AF Olèrdola
Sunday 25 Beekeeping – the world of bees
and the beekeeper VG Garraf
APRIL
Sunday 1 Guisla, Olèrdola AF Olèrdola's patch
Sunday 8 Trip to the Solar System AF Garraf
Sunday 8 Discover the Bonelli's Eagle with
the smallest AF Garraf
Sunday 8 El Bernat de Can Castellet AF Foix
Sunday 15 Olèrdola, a mountain of stories EG Olèrdola
Sunday 15 Let's make a book point with elements
natural AF Garraf
Saturday 21 Guisla, Olèrdola AF Olérdola's cloakroom
Sunday 29 The Black Cave: Discover the interior
from the Garraf massif EG Garraf
MAY
Saturday 12 Hike for the Solar System AF Garraf
Sunday 13 Gimcana with family in Castellet AF Foix
Sunday 13 Speleology discovery at Avenc
of the Esquelets VG Garraf
Sunday 13 The gymkhana of the Parc d'Olèrdola:
the strange traveler and his map AF Olèrdola
Saturday 19 Olèrdola, a mountain of stories EG Olèrdola
Sunday 20 We build our hotel of insects! AF Garraf
Sunday 20 Marine life at Garraf AF Garraf
Sunday 27 The Black Cave: Discover the interior
from the Garraf massif EG Garraf
JUNE
Saturday 2 Guisla, Olèrdola AF Olèrdola's cloakroom
Sunday 3 Herbs and remedies in the castle of Penyafort AF Foix
Sunday 3 Kindergarten: food transformation VG Garraf
Sunday 3 The marine life in Garraf AF Garraf
Sunday 17 Let's find out about the left foot,
the deepest in Garraf EG Garraf
JULY
Sunday 1 Beekeeping – the world of bees
and the beekeeper VG Garraf
Sunday 1 The nature of the town of Garraf VG Garraf
Saturday 7 My book of nature AF Foix
Saturday 14 What do we find at Garraf at dusk? AF Garraf
Sunday 29 The Black Cave: Discover the interior
from the Garraf massif EG Garraf
AUGUST
Sunday 26 The Black Cave: Discover the interior
from the Garraf massif EG Garraf
SEPTEMBER
Sunday 2 Marine life in Garraf AF Olèrdola
Saturday 8th Trip to the Solar System AF Garraf
Sunday 16 Gimcana with family in Castellet AF Foix
Sunday 16 We go to La Mola del Garraf! EG Garraf
Sunday 23 Olèrdola, a mountain of stories EG Olèrdola
Sunday 23 Beekeeping – the world of bees
and the beekeeper VG Garraf
Saturday 29 Guisla, Olèrdola AF Olèrdola's patch
OCTOBER
Sunday 7 The marine life at Garraf AF Garraf
Sunday 7 Olèrdola, a mountain of stories EG Olèrdola
Saturday 13th Trip to the Solar System AF Garraf
Saturday 13 The gymkhana of the Olèrdola Park:
the strange traveler and his map AF Olèrdola
Sunday 14 My book of nature AF Foix
Sunday 14 Speleology discovery at Avenc
of the Esquelets VG Garraf
Sunday 21 We discover the sensory itinerary of Can
Degree in family AF Garraf
Saturday 27 The gymkhana of the Olèrdola Park:
the strange traveler and his map AF Olèrdola
Sunday 28 The Black Cave: Discover the interior
from the Garraf massif EG Garraf
NOVEMBER
Sunday 4 Live the Garraf with the youngest AF Garraf
Saturday 10 Guisla, Olèrdola AF Olèrdola's cloakroom
Sunday 11 El Bernat de Can Castellet AF Foix
Saturday 17 The gymkhana of the Olèrdola Park:
the strange traveler and his map AF Olèrdola
Sunday 18 We know the path of the Left,
the deepest in Garraf EG Garraf
Sunday 25 The tions have reached the forest of Olèrdola AF Olèrdola
Sunday 25 Former cheese shop: transformation of food VG Garraf
DECEMBER
Saturday 1 The tions have reached the forest of Olèrdola AF Olèrdola
Sunday 2 The tions have reached the forest of Olèrdola AF Olèrdola
Sunday 2 Live the Garraf with the youngest AF Garraf
Saturday 8 The issues have reached the forest of Olèrdola AF Olèrdola
Sunday 9 The tions have reached the forest of Olèrdola AF Olèrdola
Sunday 16 Workshop of Christmas decorations with
elements of nature AF Foix
Sunday 16 We make the Christmas tree with
natural elements of Garraf AF Garraf
Sunday 23 The Black Cave: Discover the interior
from the Garraf massif EG Garraf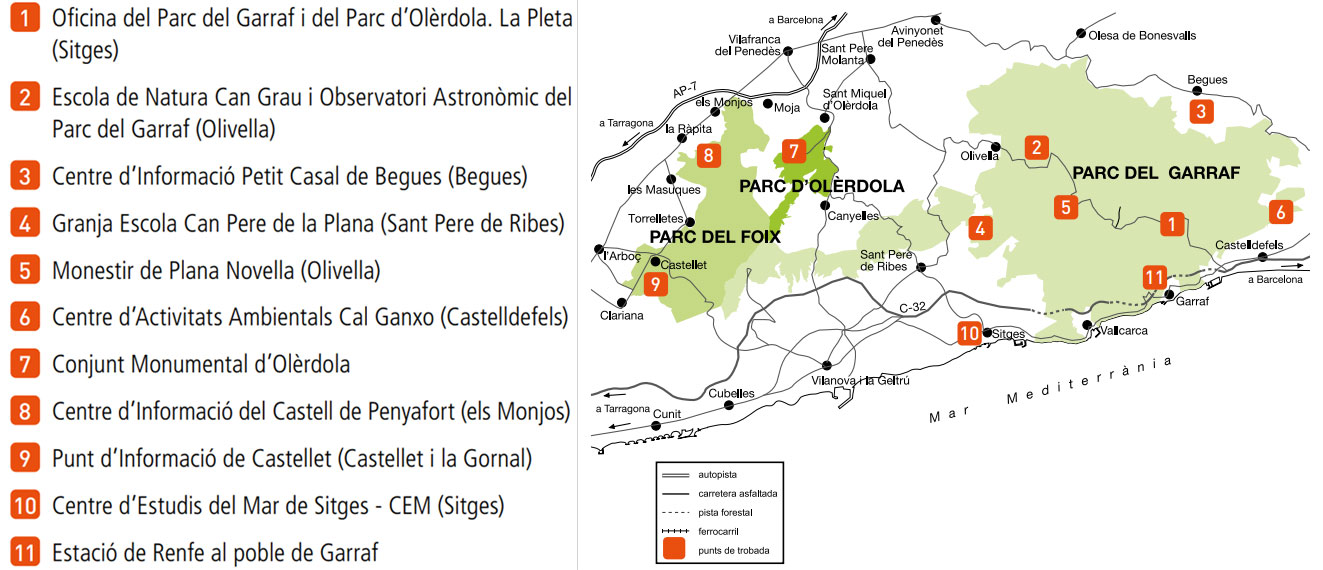 BIG VERSION
Informació i reserves
Associació Edulis
Tel. 630 678 885
edulis@edulis.cat
www.edulis.cat
Federació Catalana d'Espeleologia
Tel. 932 652 241
fce@espeleo.cat
www.espeleologia.cat
Fundesplai
Tel. 935 511 506 i 627 948 069
masala@fundesplai.org
www.fundesplai.org
Granja Escola Can Pere de la Plana
Tel. 938 960 827 i 636 501 728
p.garraf.canpere@diba.cat
www.canpere.cat
Observatori Astronòmic del Parc del Garraf
Tel. 937 713 154
garraf@planetari.cat
www.oagarraf.net
Quatre Passes, serveis ambientals
Tel. 687 523 918
info@quatrepasses.com
www.quatrepasses.com
Via Penedès
Tel. 938 172 868
info@viapenedes.com
www.viapenedes.com
PDF Official Garraf Tours

FREE TOURS GARRAF NEWSLETTER